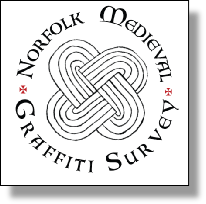 Acle, Ashby, Ashwellthorpe, Attleborough
Bale, Barford, Barton Turf, Bawburgh, Beachamwell, Bedingham, Beeston, Belaugh, Billingford, Binham, Bintree, Bircham (Great), Blakeney, Brancaster, Bressingham, Briningham, Brisley, Burnham Deepdale, Burnham Norton, Burnham Westlegate
Caister St Edmund, Calthorpe, Castle Acre, Caston, Cawston, Cley, Cockley Cley, Colkirk, Colton
Earsham, East Barsham, East Dereham, East Harling, East Raynham, Edgefield, Erpingham
Fakenham, Field Dalling, Fincham, Foxley, Foulsham, Fring, Fritton
Gateley, Geldeston, Glandford, Great Dunham, Great Ryburgh, Great Snoring, Great Walsingham, Great Witchingham, Gressenhall, Guist
Happisburgh, Hardley, Hellhoughton, Hemnall, Hindringham, Horning (St Benedict), Horningtoft, Houghton St Giles, Houghton on the Hill, Hoveton, Hunworth
Kelling, Kenninghall, Kettlestone, Kings Lynn St Margaret, Kings Lynn St Nicholas, Kirby Cane
Langham, Langley Abbey, Letheringsett, Litcham, Little Dunham, Little Walsingham, Little Witchingham, Ludham
Marlingford, Marsham, Martham, Melton Constable, Mileham, Morley St Peter, Morston,
Newton by Castle Acre, North Creake, North Elmham, North Lopham, Norwich Castle, Norwich Cathedral, Norwich St Peter Mancroft,
Ranworth, Redenhall, Reepham, Ringland, Ringstead, Rougham
Salle, Salthouse, Saxlingham Nethergate, Scole, Scottow, Sculthorpe, Sedgeford, Sharrington, Shelton, Shereford, Shimpling, Smallburgh, South Acre, South Burlingham, South Creake, Sparham, St Benets Abbey, Stalham, Stanhoe, Stibbard, Stody, Swainsthorpe, Swaffham, Swannington, Swanton Abbots, Swanton Morley
Tacolneston, Tasburgh, Thornage, Thornham, Thurgaton, Thwaite St Mary, Titchwell, Tittleshall, Toftrees, Trunch, Tunstead
Warham, Weasenham All Saints, Weasenham St Peter, Wellingham, West Harling, West Sommerton, Weston Longville, Weybourne, Weybread, Whitwell, Wicklewood, Wighton, Winfarthing, Wiveton, Wood Norton, Woodton, Worstead, Wortham, Worthing, Wymondham Abbey
Follow the links below for further information on the graffiti in individual churches. Only a selection of graffiti is shown for some of the busier sites, and we have included a number of post-reformation examples, as well as mass dials. All graffiti inscriptions will eventually be available via the database.